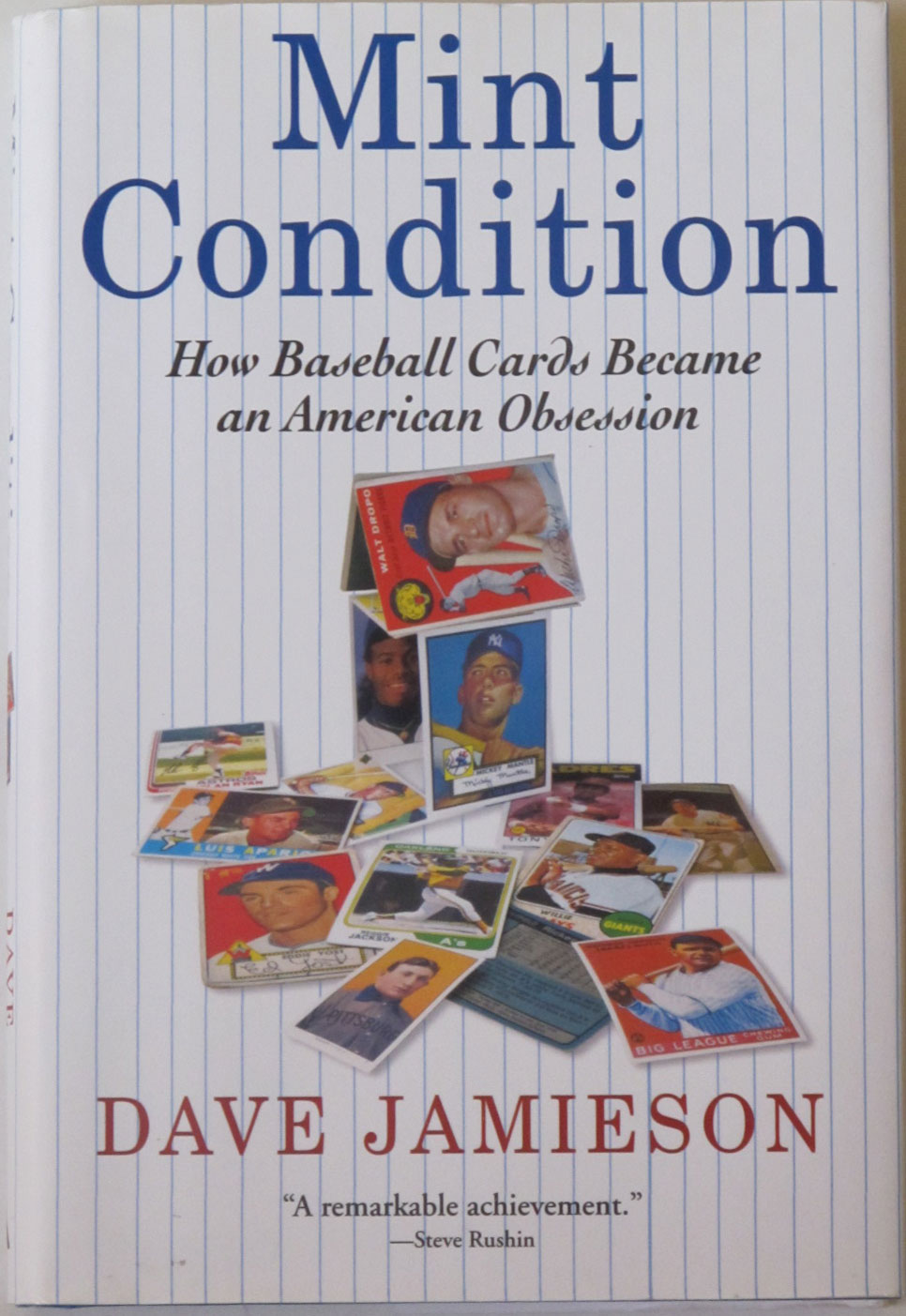 I recently finished reading Dave Jamison's Mint Condition. If you ever collected baseball cards, I highly recommend reading it. Here is an excerpt in Slate.
Why Baseball Cards Were Huge for Me
A lot of what I know about marketing comes from my experience with baseball cards, seeing things like:
the rise & fall of the value of cards by year and player (and being able to predict which ones would soon increase in value)
a dealer with lower quality cards making more because he was interested in selling & not emotionally attached to his cards (this taught me about different kinds of demand)
the importance of organization & understanding who would be willing to pay a premium for different types of cards
the importance of simple & straightforward pricing
Ignorance of the Bubble
Ironically, even though it is obvious it was a huge bubble, I never realized or appreciated it at the time, in large part because…
we moved to a town in the middle of nowhere, so I didn't fully appreciate the decline because almost everything was a bit less accessible there
a few years later I got my driver's license. my increased ability to drive + increased understanding of marketing more than offset declines in the market at the time.
I joined the military & largely decided to abandon collecting during my enlistment because I lacked many forms of stability in the military (at one point my "value added" barracks room was flooded with shitwater that the toilet started sending out in a pressurized fashion while I was off at work…it took nearly a week for the room to dry after they cleaned it) and figured stuff would either get damaged or stolen with me moving around in the military.
Of course any idiot can make money in a bubble & you have to add far more value to compete when you are in down markets, but I was enlisted for years before it paid more than I made selling baseball cards part time on the side while in high school. I suspect that if I was still selling cards throughout that time period I would have eventually had a sharp fall off as the industry continued to collapse.
Speaking of bubbles, here is an interesting article about How Sotheby's Predicts the World Economy
Notes on the book / things I learned
Here are some of my notes from reading the great Mint Condition book. The amount of research Dave Jamison did is unbelievable. I can't believe how much I didn't know about something I knew so much about…
long before baseball cards industry trade cards had existed for over 100 years advertising just about anything. you can find some of these Victorian Era cards on eBay marketing horse saddle oil, wick adjusters & even elixir that cures literally everything.
cigarette cards

baseball was more popular up north, but spread aggressively across the nation in part due to the civil war (those in camps would play ball)
before the civil war cigarettes were viewed as lower class, but dealing with the mobility needed for war made them appealing to a broader base. inserting baseball cards into packs helped them appeal to younger individuals
women were used to advertise cigarettes (much like beer today) and from there it wasn't a big jump to cards. free cigarettes were given to immigrants as well.
shortly after the civil war the first baseball cards were created & cards started to become a bit more popular in 1880, packaged with cigarettes.
in 1884 a  NYT article wrote "The decadence of Spain began when the Spaniards adopted cigarettes, and if this pernicious practice obtains among adult Americans the ruin of the Republic is close at hand."
cards cost up to half of what a pack cost. eventually Duke used mechanical cigarette rolling machines to create cost advantages & scaled into advertising to force competition to sell. they created a monopoly in the American Tobacco Company, ceasing the need to insert cards in 1889. Cards were only added back into cigarette packs about 20 years later, just ahead of an anti-trust decision from the court.

famous cards

J.R. Burdick donated his cards to the New York Metropolitan Museum of Art and wrote The American Card Catalog, which helped organize the hobby. In his book he highlighted the Honus Wagner T206 as being scarce & of higher value.
While the Honus Wagner is rare, David Cycleback highlighted that there are a number of old cards that are more scarce.
1933 Goudey #106 Nap Lajoie wasn't produced in significant quantities, making it nearly impossible to complete the set. After collectors complained they were mailed a version of the card in 1934.
In the 60s Topps couldn't sell (or really even give away) their old stock of 1952 high series cards, so they buried many of them at sea.

gum cards

baseball cards made a comeback, but with gum…during the great depression era, where fleer & goudy competed for 1 cent pack sales. the 1930s saw the launch of g men & horrors of war
cards helped gum & candy manufactures survive the great depression.
during WW2 many baseball stars headed off to war & eventually gum was rationed
Topps was originally known as the American Leaf Tobacco Company, which imported Turkish tobacco in the 1890. They diversified into gum after seeing the success of Fleer & Bowman.

How Topps created a monopoly, then lost it

the 1951 topps cards were ugly, but the 1952 set was an unimaginably strong turn around. In the 1950s Topps took cards mainstream.
Bowman had exclusive contracts with baseball players, but Topps signed contracts with some of the same players as well. That led to a court battle, but by 1956 Topps had won the market & Bowman sold its contracts  + brands to Topps for $200,000. Topps then used their contracts to prevent other manufacturers from creating baseball cards sold independently or packaged with candy.
Topps had 30 scouts which signed young minor league players to 5-year exclusive contracts for $5. If players managed to make it to the majors without signing a Topps contract yet, they were given a $125/yr contract. This larger payment was typically given in household goods that were purchased wholesale. Stars were sometimes given higher quality gifts & other perks like free dinner and drinks.
Ted Williams was one of the few players who figured out he was worth far more than Topps was offering. He signed an exclusive contract with Fleer in 1958 worth $12,500 & Fleer made an 80-card set of Ted Williams in 1959, which turned out to be a flop which was ignored by kids & enraged other baseball players. Fleer then tried an old timer's set named Baseball Greats, which also bombed in 1960 & 1961. In 1963 fleer was able to offer a baseball card set by packaging them with awful tasting cookies. These mostly sold in poorer areas where kids would appreciate nutrition & value even if it taste awful. That set also led to a loss as cookies were more expensive to make & spoiled quicker.
the FTC ruled that Topps indeed violated the Sherman Antitrust Act, but an appellate court reversed the decision, claiming that new players entering the game should allow another firm to quickly compete.
In the 1960s & 1970s the quality of topps cards dropped off as they grew comfortable with their monopoly & cut corners. Fleer sold their player licenses to Topps for $400,000 and gave up on cards for a bit.
Topps lost much of their leverage after Marvin Miller renegotiated the player's share upward to include a percent of sales.
In 1975 Topps faced an antitrust case that it lost & in 1981 Fleer & Donruss created cards, which were rushed to market in a sloppy effort.
The book was written before this bullet point, but history appears to be repeating itself with Topps having the only MLB license right now & Panini signing exclusive deals with the NBA and NFL.

Cards move from toys to "investments"

In 1976 James Beckett did a survey & concluded that a 52 Mantle was worth about $50 & the famous Honus Wagner was about $500. Beckett launched an official price guide in 1979 by the name of the Sports American Baseball Card Price Guide. Beckett then launched his popular magazine, which placed more emphasis on the individual players & the condition of the cards. Beckett's magazines were sold in 2005 for $20 million to Apprise Media.
In 1982 a cheesy show on ABC named Heart to Heart mentioned valuable baseball cards in one of their mystery shows. A few months later Topps was bought by the P.E. firm Forstmann Little & Co. for $94.5 million & brought public in 1987. Huhtamaki Oy bought Donruss from General Mills shortly after Topps was bought. In 2007 Michael Eisner bought Topps for $385 million.
In the 80s rookie cards, driven by dealer hype wanting to promote both the value of older cards & the potential of new cards, became seen as having greater importance & the 52 Mickey Mantle that was recently valued at $50 sold for $3000. A hobbyist at the time wrote "Essentially, the entire rookie card phenomenon began as nothing more than dealer hype, a way to sell more new baseball cards than ever before at unprecedented prices." This led to counterfeit cards, especially as Pete Rose neared Ty Cobb's hits record

The rise of rookie cards has a number of compelling marketing aspects baked in

it suggests the nearly unlimited potential of the future
it states why you need to buy this year
it leads to the false assumption that this year's rookie cards will be worth a similar amount to those older rookies after they age
Pete Williams has a great quote on why that is not true: "Like many markets, the people who made money in sports memorabilia did so accidentally. They held onto cards/memorabilia from the 1950s or before that they or a relative collected and when the market boomed in the early 1980s, they saw the benefit. It's no different than people who owned homes in Silicon Valley or certain beach communities for decades and cashed out before 2008. They never intended to make a fortune on real estate; they just happened to live there. Yes, some card dealers did well in 1989-91 speculating on new cases of Upper Deck products, along with those of other companies. This was the industry equivalent of the 1998-2000 stock market. But those card prices were less legitimate than late '90s stock prices. When everything produced after 1975 is worthless, as it is today, there can be no doubt that "investing" in sports memorabilia is foolish."
Greg Maddux was one of the best pitchers in the history of baseball. His rookie came to market a few years before I started collecting & now people are lining up to sell them for $1 or $2 each, with the more scarce Leaf version commanding $3. To get more than that you need to spend $8 to get it graded & then if it comes back a 9 or a 10 you might have some profits there (but note that the PSA graded 8 Donruss rookie has a $9.99 ask price, and that is before CheckOutMyCards.com gets their cut of the sale, which is a 20% cash out commission + 1 cent/month per card for storage + 20 cents/card for taking the photo). On eBay that card recently went for $5.5 with shipping & $3.54 with shipping & nobody bid on a PSA 9 that was $11.99 with shipping.


As a sidebar … it is worth mentioning that for many years the Canadian versions of Topps (branded as O Pee Chee) and the Canadian version of Donruss (branded as Leaf) were viewed by some as cheap imitations of the original issues, however due to their relatively lower printing run some people are bidding up the prices of top graded rookie cards and vintage hall of fame players.
The mainstream media began writing about cards as a legitimate investment & there were even books on baseball card investing. By 1990 the surge in perceived value led to robberies, a murder, and even a MLB umpire stole baseball cards.
Baseball cards being sold as investments & counterfeit issues led to the opportunity for the creation of a higher end card line named Upper Deck by a printer named Paul Sumner.  The cards featured crisp photography & a small hologram on the back that made them hard to counterfeit. Tom Geideman made the set's launch even more memorable by putting Ken Griffey Jr. as the first card of the set. Over a million Griffey cards were printed & Upper Deck had a policy of replacing the card for collectors if it came out of the pack with a bent corner. Nearly 100,000 Griffey cards have been graded.

While 1989 Upper Deck was seen as the rise of the premium card, it was 1984 Donruss that really sparked the move in that direction: "The 1984 Donruss set was, IMHO, the true precursor to the market flood that would hit us less than half a decade later. The set, including Don Mattingly and Darryl Strawberry rookies, was beyond hot. I was lucky enough to get a box at MSRP at a local dime store, but before you knew it packs were selling at card shows for $3.00 and up. That was a Big Deal. Brook Jacoby rookies were selling for seven bucks and commons routinely ran a buck each or more. IMHO, that was the first test of what the market would bear and I truly believe that the manufacturers started to listen (and understand) the secondary market."

1989 also saw the Fleer Billy Ripken  f face card, which was soon halted & had many variations created. The card quickly went from a dime to as high as $300 & back to selling for about $10 to $15 on eBay more recently. The publicity around the 1989 Fleer error was followed by loads of errors in 1990, particularly from Donruss. It was alleged that Upper Deck board members sold themselves cards & wholesales, and did extended print runs for self distribution of the Dale Murphy reverse negative error card.

1990 Donruss also had many errors which were hot at the time, but those were vastly over-produced. Only the 1990 Topps Frank Thomas No Name on Front printing error really held value well among error cards.
Score Board Inc bought cards at wholesale & broke down the packs into singles, allowing people to "invest" in lots of cards by player. They also sold autographed cards, but eventually went bust

card grading

At the upper end of the market there are limits on how much you can get a person to spend on a pack. But some older cards have virtually no upper limit in pricing because they are seen as artifacts. What's more, the risk of counterfeit cards on higher valued items only increases the value of having them authenticated. And the system of authentication + grading allows a somewhat scarce item to become even more scarce by being the highest graded version.
PSA grades about 5,000 cards a day, with each grader doing between 300 to 600 cards per day. cards are graded by at least 2 different graders & if there is a discrepancy a tie breaking 3rd grader grades it.
PSA is a big player that leads the market, but then Beckett came in with their own grading service which rates a typical 10 as only a 9 or 9.5 & saves 10s for ultra scarce conditioning, providing yet another pricing tier.
Bill Maestro served that segment of the market, using charm & sparing no expense in marketing. He turned his auctions into events & created a memorable experience, turning the transactions into more of a service like an art dealer. However, amid allegations of shill bidding & fraud  he shut down. Some of his team members launched another online auction service named Legendary Auctions.
In spite of grading services existing, folks still do managed to get some trimmed cards or other altered cards graded by many of the grading & authentication services. Some of the issues include doing things like adding print to a card to turn a fairly common card into a scarce error.
At the cheesier lower end of selling into the hype of baseball card "investing" was Shop at Home's "Gem Mint Ten" Don West

the bubble pops

By the early 90s there were up to $1.2 billion industry and 81 billion cards printed each year. Since its peak the new card market is off over 80%. In 2009 MLB once again moved back to an exclusive contract with Topps for baseball cards. The NFL and the NBA also have exclusive licenses with Panani.
In some cases boxes (or even cases of boxes) of cards sell on eBay & elsewhere for similar prices to what packs sold for, with shipping costing far more than the box in many instances.
Fleer went public in 1990 and near the top of the baseball card market in 1992 Marvel Entertainment bought them for $265 million. Fleer went out of business in 2005 & sold its name to Upper Deck for $6.1 million.
By 1994 there were 350 different sets (and vastly more if you count insert sets), making collecting a less shared experience.  The baseball strike further killed an already dying market. in 1995 basball card companies scaled back print runs significantly, but could only sell about half of what they produced. they kept producing more "low run" sets though & there were 800 insert card sets by 1996. Some cards would come in different colors with different print runs, with some also having autographs and/or chunks of game used memorabilia embedded in them. Many of these once "scarce" chase cards that made the base sets that filled $3 packs worthless now sell on sites like CheckOutMyCards.com for $1 or less each. Even most of the lotto winners lost money 😉
As pack prices increased (while the value of what was inside a pack didn't keep up) the younger end of the market bailed. As the variety of cards over-staturated the market prices kept falling.
One of the few guys who has still done well in spite of the bubble popping has been Bill Henderson, who focuses on low priced common cards.
You Can't Even Give them Away!
An example of the poisonous & treacherous (treasonous even?) behavior that was common in the early 1990s is well exemplified by O-Pee-Chee Premier. They launched as a premium brand & cost something like $3 a pack (maybe 4 or 5 when they were at their peak)…and this is in 1991 when the Dollar was worth about double what it is today.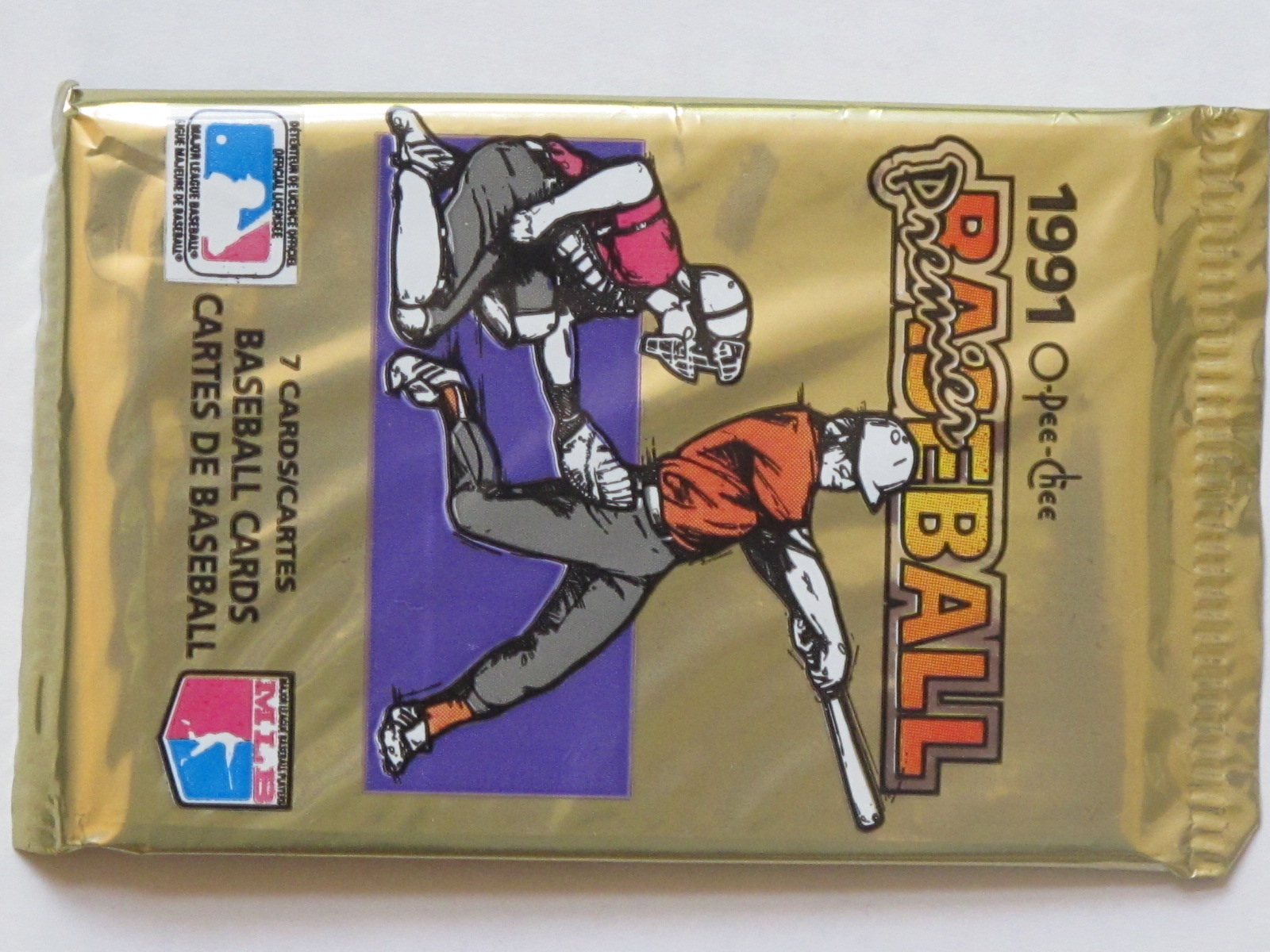 Anyhow they got rubes to buy boxes full of those packs.
Then after they got a lot of people to buy into the alleged value & scarcity, the bastards printed out loads and loads of complete sets, utterly destroying the value of those cards.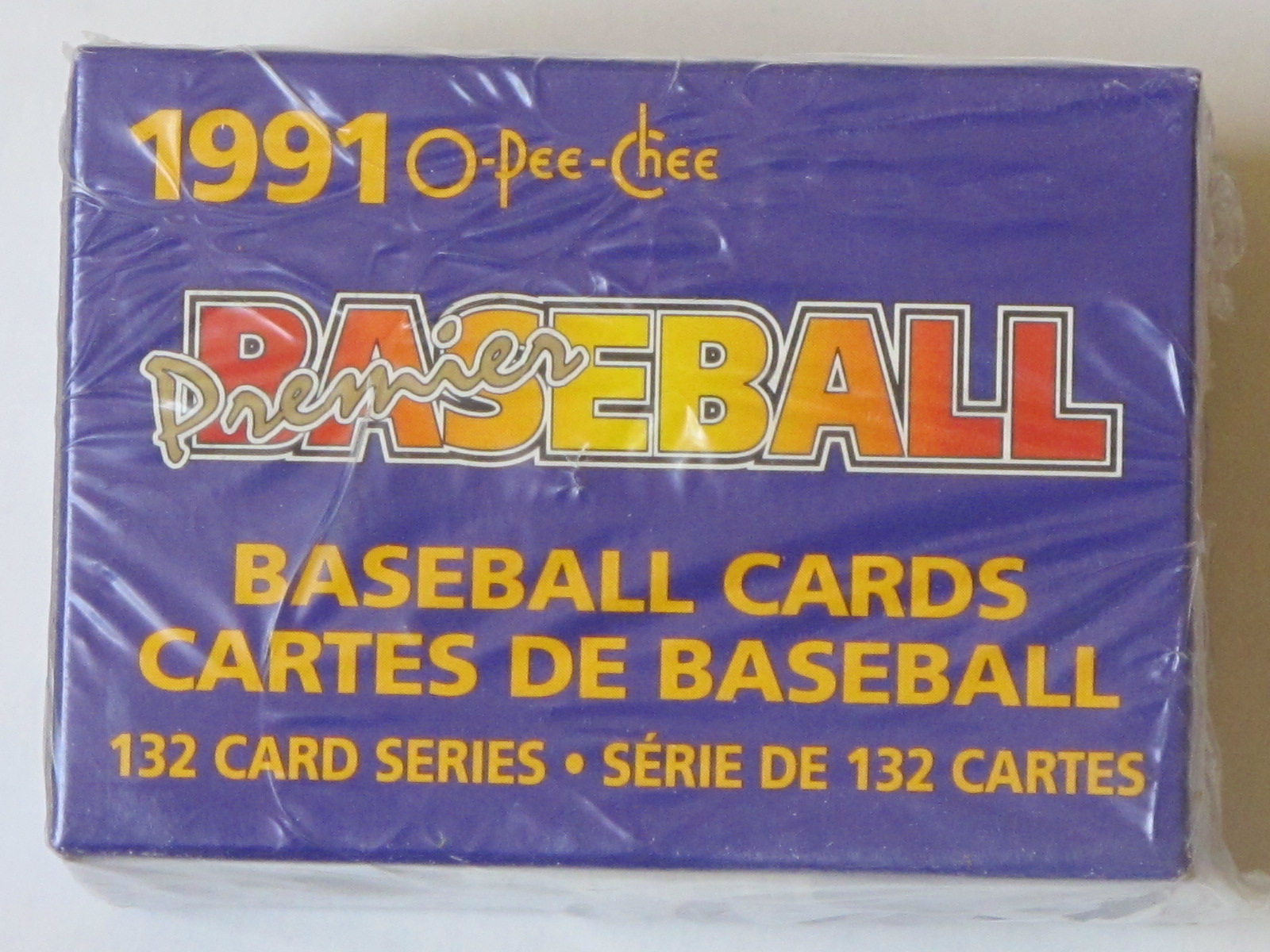 There isn't a single card in that set that goes for over a quarter (unless you spend money to have them graded, but even they they will likely go for less than the cost of grading :D) . The 2 box set was something like $20 with free shipping on eBay & if you back out nostalgia, that too was paying too much. For most of these listings which set the shipping price closer to its real cost the shipping is far more than the product, often by a factor of 2 or 3 to 1.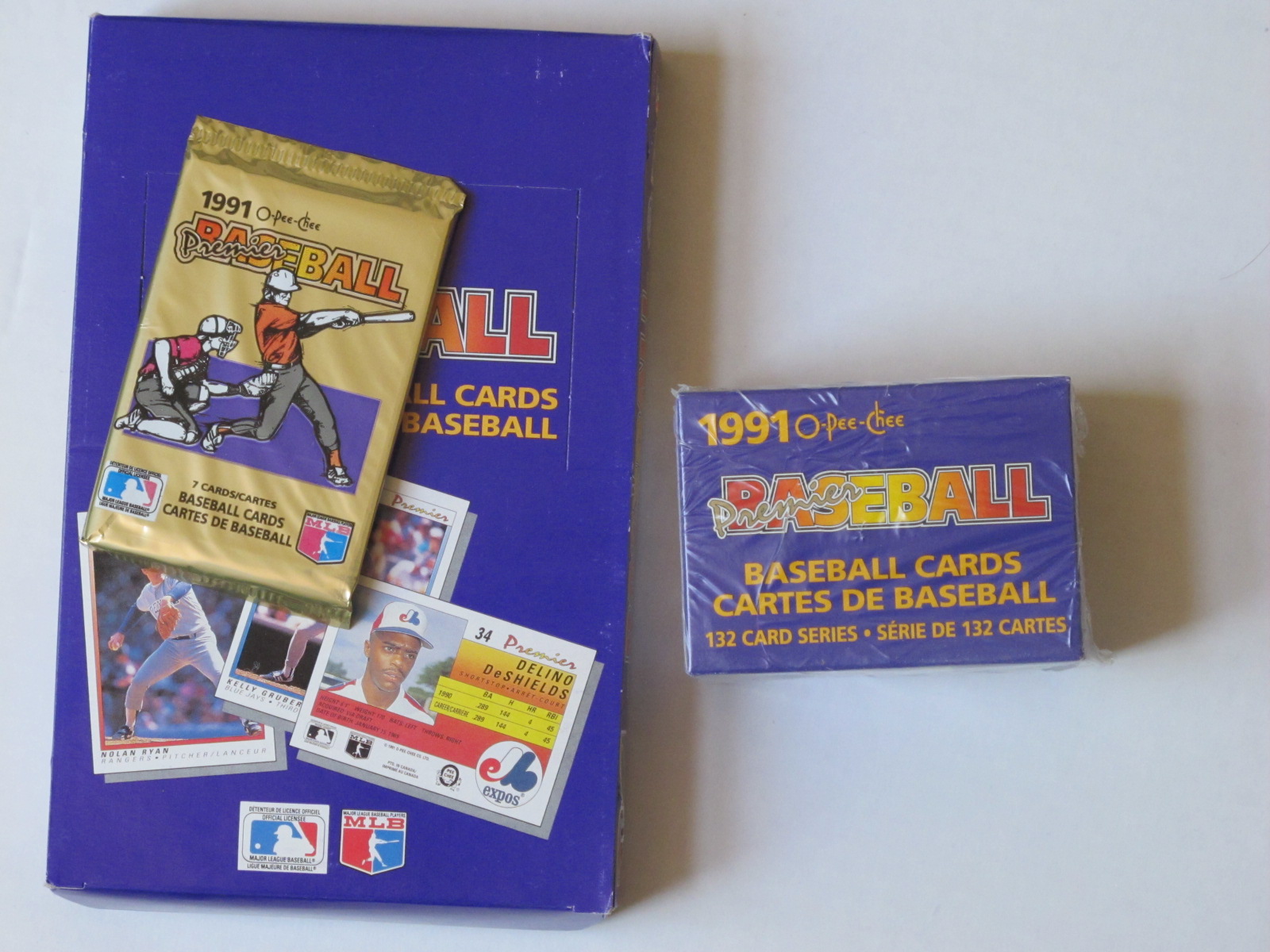 On June 22 of 2014 a 24 box case (24 boxes * 36 packs * 7 cards per pack) sold on eBay.com for $160 with shipping.
Indeed those cards did not hold up as well as vintage cards have.
Of course I am not mad at O-Pee-Chee for their opportunism & exploitation. That was the name of the game back then. I wouldn't have bought the above for good memories if I didn't enjoy them in the past. And the marketing lessons I learned from baseball cards were easily worth thousands of times what I spent buying them (especially as my hobby became more than self-financed but a profit center after I started selling them during the last couple years of high school).
Fleer Ultra was another area of "investment" that didn't pan out too well…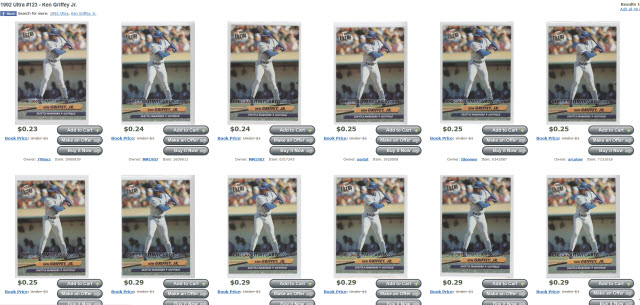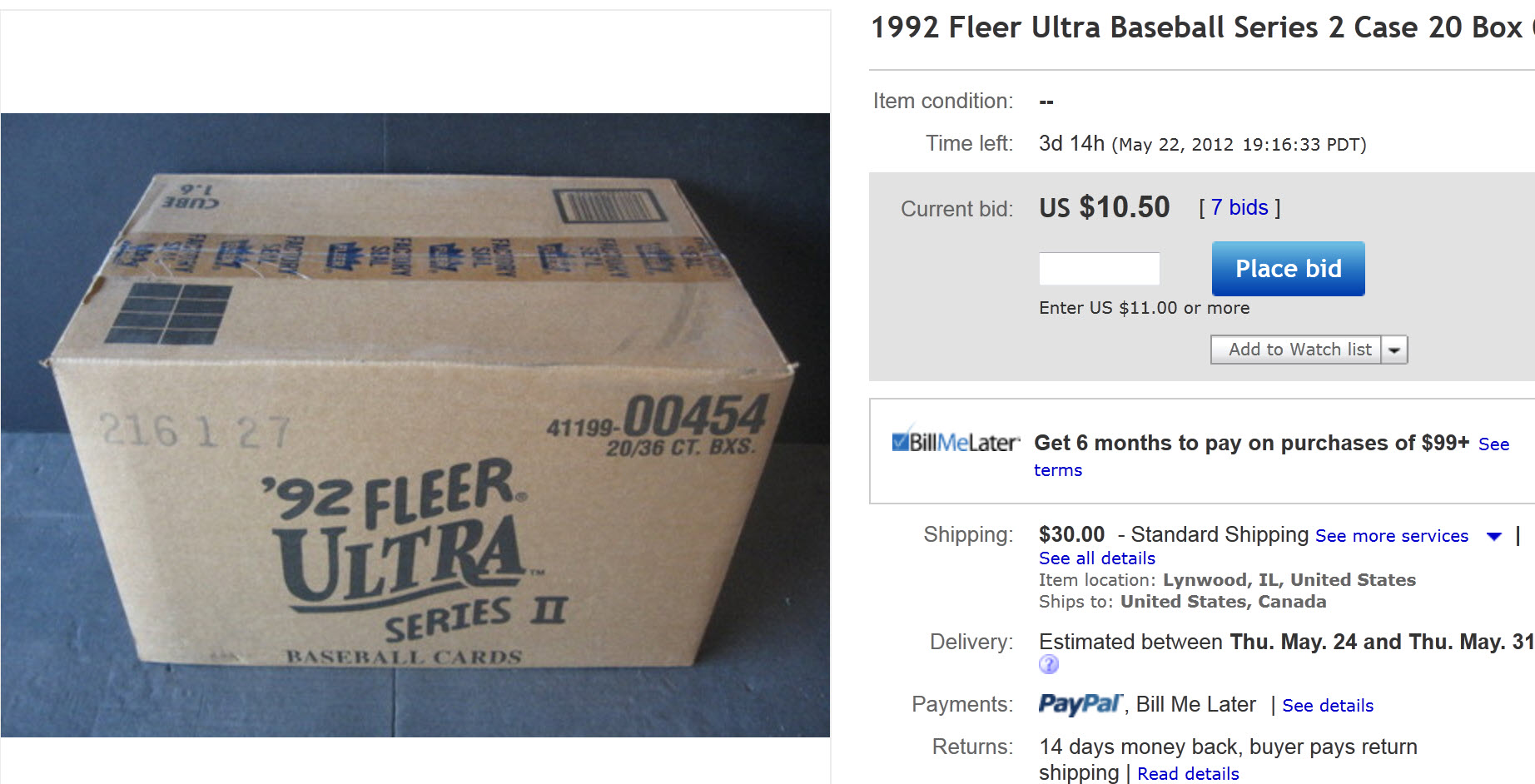 And here are a bunch of "scarce" Frank Thomas chase cards that now sell like low priced regular set singles. Some of these suckers had a $40 book price & this was back when the Dollar was worth about double what it is today.

If you think those $1 to $2 prices look bad, then the 40 cent ones must look ugly

The reason for such a decline include…
over-production
a decline in demand
Frank Thomas was hurt for a bit
many of those who desired those cards already got them years ago
when a player retires that causes most of their card prices to drop
when their card price drops it not only drops the price, but then the % of book price you can get also goes down
this is how a $40 card goes to $25 (no longer new & different) which then goes to $15 (after injury) which then goes to $5 (after retirement) which then sells for $1 (have to sell below book/list price in order to move it)
And it wasn't just the later insert cards or regular sets that got hit…even the Frank Thomas Leaf rookie can be bought graded PSA 9 for $17 in eBay auctions (and about half that fee is the cost of getting it graded).
Even the "ultra scarce" inserts that contain a piece of jersey and/or an autograph are often valued at next to nothing. Here is an image of a recent eBay auction where a 34 lot group of such cards (with many stars included) went for under $2 per card.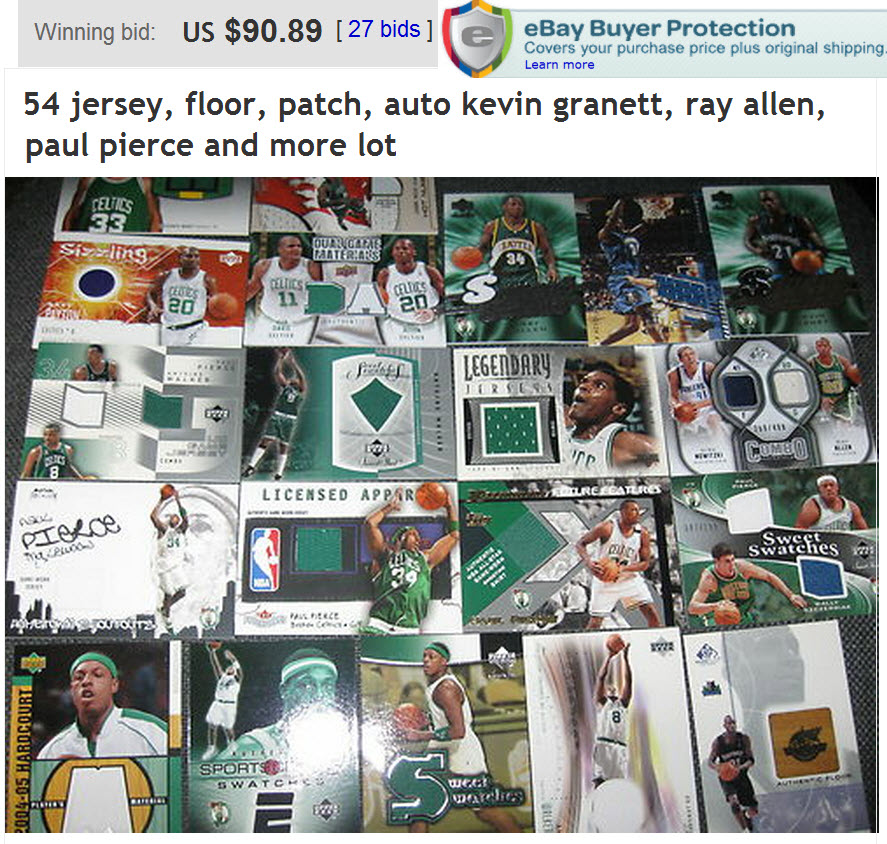 When you consider the cost of getting an autograph from a player, the logistics of shipping, the cost of buying game-used jerseys, and the more expensive manufacturing process, those cards had to have cost the manufacturers over $3 each to create. And those are the key cards…the lotto tickets you hope to land. So the hobbyist who was paying $3 per pack on the hopes of finding such a gem got royally screwed if they considered it anything but a hobby.
The scarcity craze was driven directly by the over-production. Back in 1992 it seemed like you had to buy box after box after box of Donruss to score a Donruss Elite card (I believe they were seeded about one per 720-pack case). Those card were limited to a print run of 10,000 & now trade at around $10 to $20 on eBay.

In 1993 Topps introduced Finest, which was an ultra premium line limited to 4000 6-box cases. The packs sold for about $20 to $25 each & refractor cards were seeded to about 1 per 9 packs in an 18-pack box, giving them a print run of 241. The refractors looked so similar to the regular cards that many people could not tell them apart.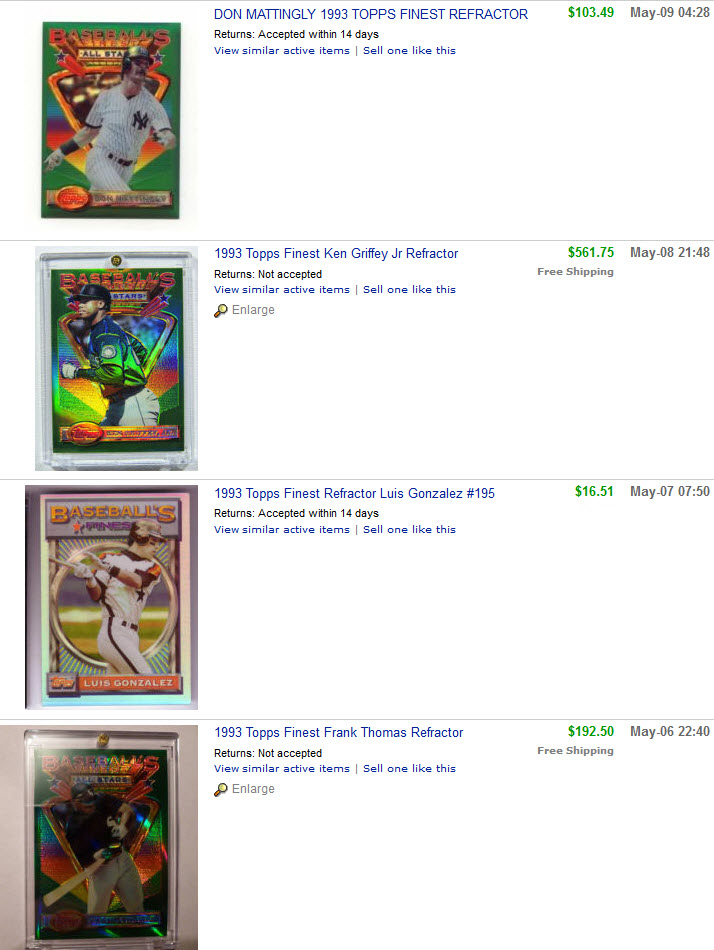 Some dealers sold the refractors at a discount to the regular cards thinking there was a printing error until the pricing guide came out. In an age where a print run of 10,000 was considered "ultra rare" a limit of 241 really moved the needle on the perception of scarcity. Today many card makers put printing plates and other 1 of 1 cards in their packs.
Even after the pricing guides came out some folks thought that the refractors were the regular cards. I remember buying some cards in a guy's dime box where one of the cards was a refractor that I sold the next week for about $50. 🙂
Another friend traded me a Larry Walker for about $150 worth of other cards & I was able to sell the Larry Walker for right about $150 cash, making it a huge win – since cards would often sell for about half book price to move.
The basketball refractors are much cheaper & were likely much less scarce than the baseball ones. The entire set sells on eBay for around $900 or so, whereas someone has the baseball set listed for $12,000. The star of the basketball set is the Michael Jordan. Someone traded a dealer friend of mine a Michael Jordan basketball. He sold it to me for about $100 & $300 or so in trade, trading down to smaller cards he could move more easily. At the time I knew I could have sold that card for $425 cash to the same person I sold the Larry Walker too, but I was too greedy and kept it. I still have it, but those sell on eBay for maybe half that (so I guess it didn't depreciate as bad as other cards did!)
By 1996 Finest had come out with using multiple card colors  (bronze, sliver & gold) of different cards in the set, added protective coating to the surface of the cards, & then made refractors of each. That same dealer scored a Chipper Jones gold refractor & traded it to me. In spite of allegedly being "scarce" with a limited 150 print run, it was nowhere near as scarce as cards would become in the years to come (with many 1:5 & 1:1 cards). That thing bombed in value, losing something like 95% of its (non-inflation adjusted) value over the past 16 years (take that 5% that remains & divide by 2 to account for nearly 2 decades of inflation). After he retires it will probably lose another half to 2/3 of what remains (making for a  sweet inflation-adjusted drop of about 99%). I think that one was probably trade only & no cash (and I traded below its value because I thought it would drop some … trading something like $500 or $600 in cards when the darn thing booked at about $800). However back then I had no appreciation for just how far it would drop. It now sells on eBay for about $30! Once he retires that will likely be about $8 to $10 ($15 at the most) and that will be down to that from once being listed at about $800. As it turns out, even the 150 print run was suspect, as Topps eventually had to settle a lawsuit from a collector who owned 220 Greg Maddux refractors. #ooops
My modest refractor gains (outside of the small Jordan & brutally huge Chipper losses) help heal a bit of the O-Pee-Chee Premiere wounds. But the marketing lessons behind all this stuff (the value of organization, the value of scarcity, riding trends, getting off the trends) were worth far more than the gains or losses by orders of magnitude.
As crazy as the above is…some of us still like sport's cards 🙂
Feed Your Inner Collector
Some great sources for baseball cards include…
It can be valuable to look at multiple locations when buying & selling because some spots might have far cheaper shipping prices & others might be priced low enough that you can easily arbitrage from one platform to another.
Beware Fakes
On the ridiculous front with counterfeits, below are some of the things for sale on iOffer (similar products likely exist elsewhere)